Egg- Citing news!
Start-up company RoffaReefs, founded in the Rotterdam Zoo, is going to test its fish breeding system in Bonaire. The newest design will be tested with the help of Dive Friends at the Sand Dollar site. Thanks to a contribution of the Innovation Fund of the World Wide Fund for Nature (WWF) the breeding system of RoffaReefs can be improved by testing it on the reef of Bonaire. The system is built in the Rotterdam Zoo and will also be used in other aquariums in the Netherlands and France.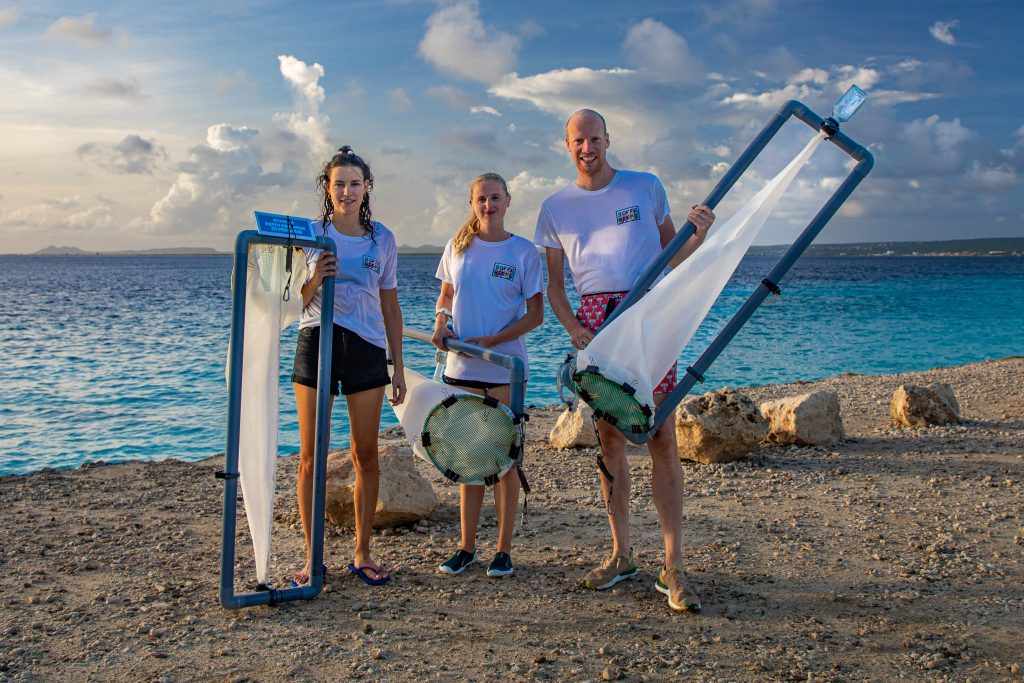 RoffaReefs will conduct research on Bonaire as a part of the World Wide Fund for Nature the Netherlands (WWF-NL) ''Dutch Caribbean Marine Strategy''. This five-year plan focuses on the conservation and recovery of coral reefs in the Dutch Caribbean. A crucial part to help reefs recover is to actively restore reef fish. Reef fish are vital for the health of coral reefs, for example, by grazing algae overgrowth. Grazing by herbivores increases the survival, health and abundance of juvenile corals and are therefore a necessity to enhance efficacy of replanting corals.
WWF-NL supports this project because unfortunately, numerous animal species do not live in our neighborhood (anymore) and zoos play an important role when it comes to information and education about these species. Such awareness is critical to continued support for global conservation.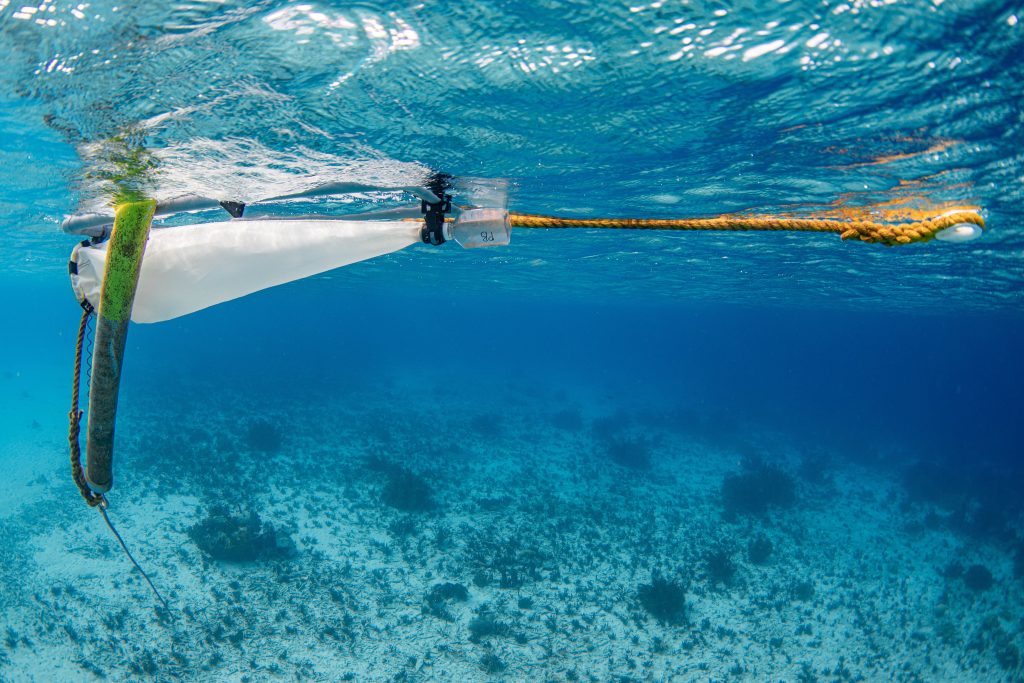 Coral restoration projects do not regularly integrate restoration of other related species, like reef fish. Reef fish are a key component of the coral reef ecosystem. RoffaReefs has designed a floating breeding system to breed marine fish larvae both in aquaria and in the wild. With this system a higher survival rate of larvae is expected. However, to obtain these marine larvae nets will be deployed around the island. These will be attached to the yellow buoys from STINAPA, please leave them in the water! With the data obtained from this pilot study RoffaReefs can make improvements on the breeding system for next trials in collaboration with WWF-NL and STINAPA.
Update on our System at Sand Dollar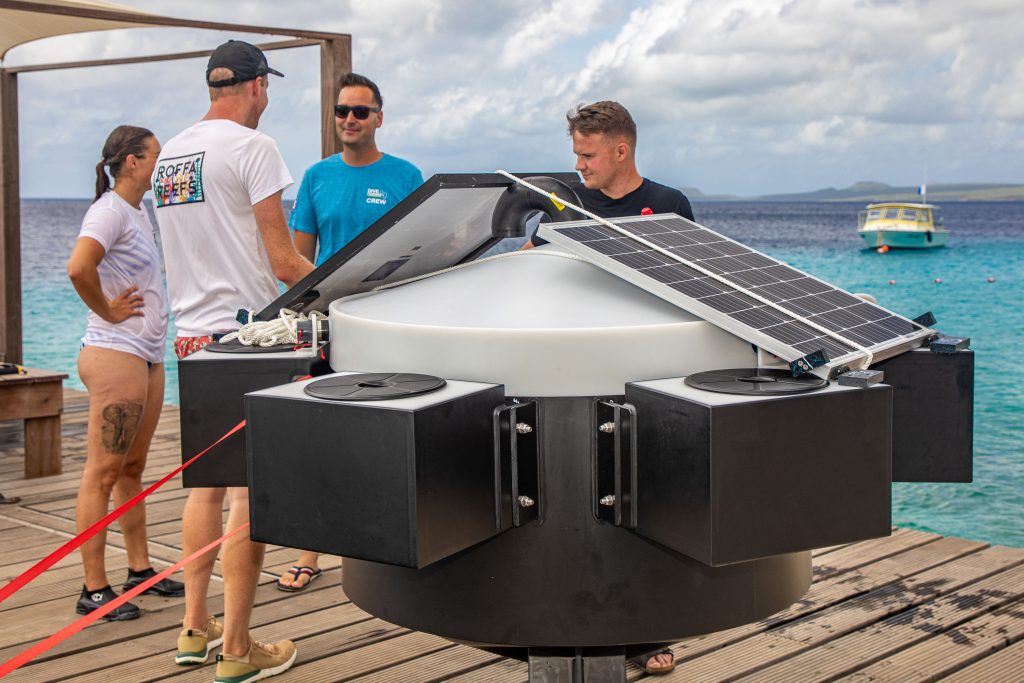 On the 22nd of September, our first day started with a meeting with the company Dive friends. We need a good place for our breeding system. We talked with Roy Smits about the opportunity to let the breeding system stay tied to a boat at Sand Dollar, located in Kralendijk. In this place, the water depth is optimal and there is also the opportunity to use the boat as a workplace.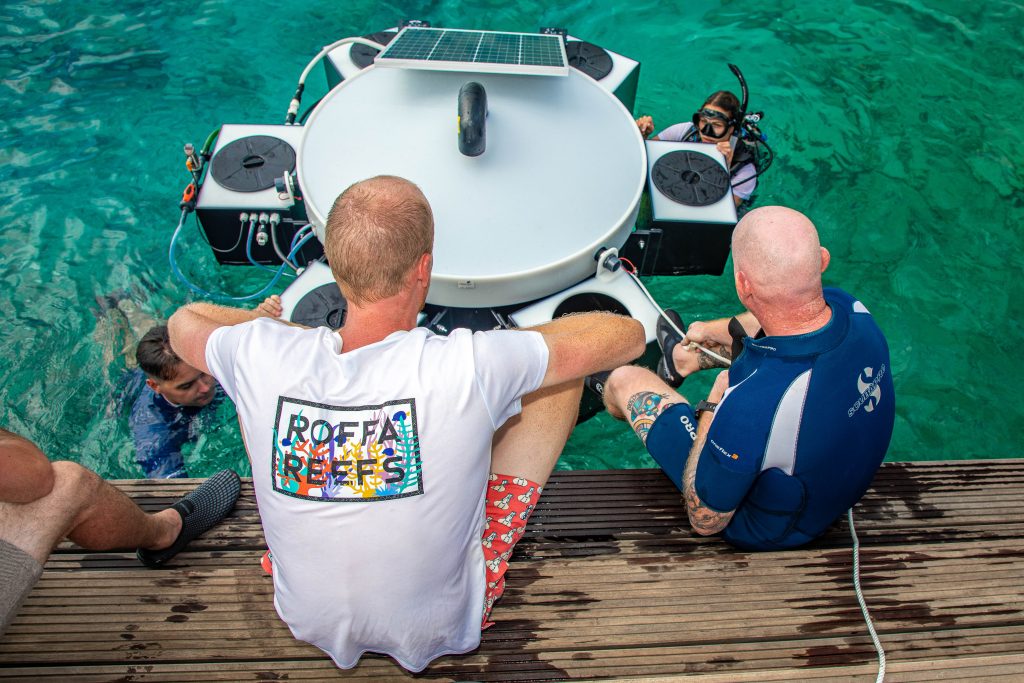 After consultation with STINAPA we decided to place our system here. Our system came in by plane and arrived at Sand Dollar the 4th of October. After some days of assembling and a little storm it was ready for launch on the 7th of October. We had way more help than expected, special thanks to Roy Smits, Amir Wilson and Eddy Klijs from Dive Friends, who helped us out the entire day! Amir even did some sampling rounds collecting fish eggs with us the days before.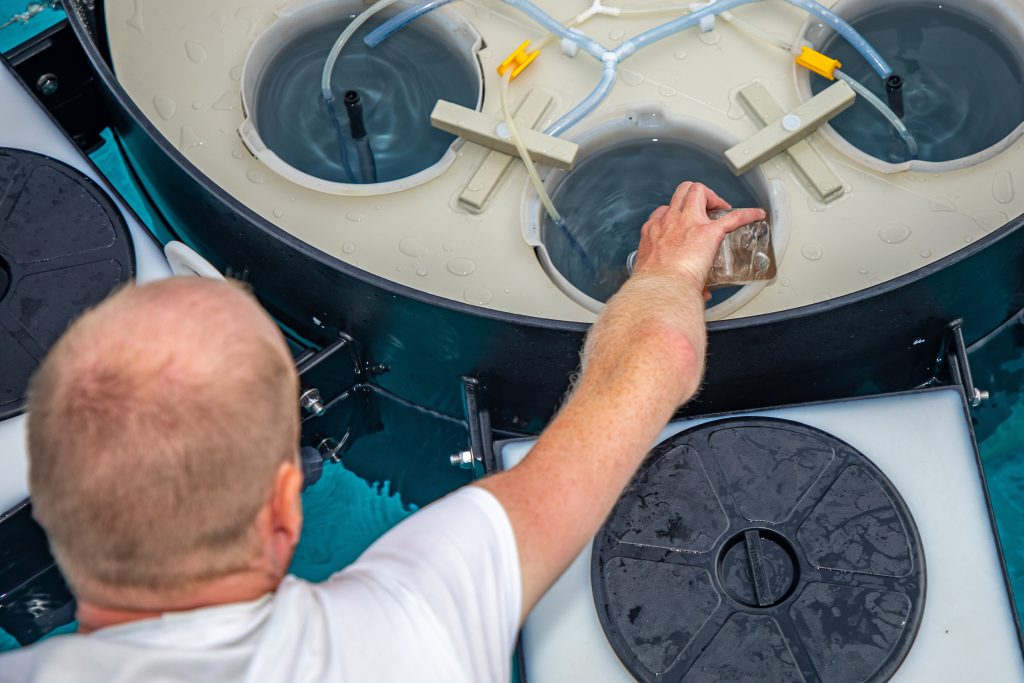 Egg-cellent conditions!
Unfortunately one of our solar panels broke off when we launched our system. But especially Eddy, Yuma and Louise made sure we had the system up and running by the end of the day! We are tweaking our settings right now to make sure we have the right conditions to put our first batches of fish eggs from Bonarian reefs in our system!